What Are Invisalign® Attachments?
Invisalign® attachments are tiny clear bumps that Dr. Azarko will temporarily bond onto some of your teeth to move them efficiently into their new position. Attachment bonding is done at the beginning of your treatment and requires no needles with little to no discomfort. The attachments are durable and only very rarely de-bond, unlike traditional metal brackets. At the end of your treatment, removing your attachments is very quick and easy, with no anesthetic and little to no discomfort.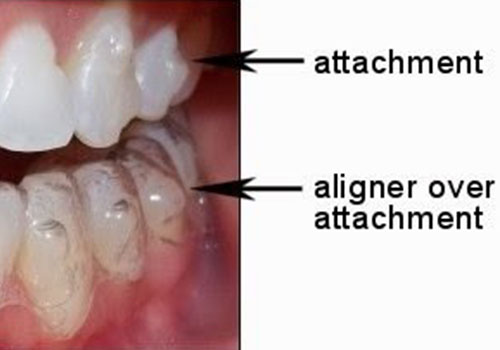 How Do Invisalign Attachments Work?
Dr. Azarko suggests the best way to think of Invisalign® attachments is to imagine a kitchen filled with drawers and cabinets. Trying to open these drawers would be very difficult and inefficient if there were no handles. This extra "grip" of the Invisalign® plastic on your teeth is very important to idealize your tooth movements in the quickest and most effective way possible. 
Interproximal Reduction
Space between the teeth needs to be gained in order to move the teeth into a straighter or more desirable position. We achieve this goal through strategically moving your teeth with the aligners. In some instances, we may require additional space to be created. Very small increments (less than 0.4 m.m.) of IPR (interproximal reduction) may be necessary for some patients. Dr. Azarko utilizes an extremely thin strip placed between certain teeth for this procedure. As there will be little to no discomfort, anaesthetic or needles are not necessary. While IPR is kept to an absolute minimum with Invisalign, this form of space creation is occasionally required.
---
---